Let's GO, HAWKS!!!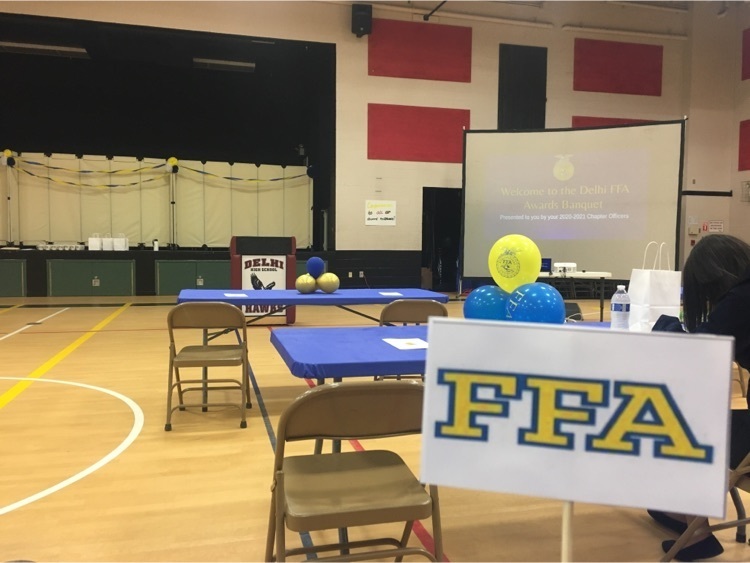 150 vaccines at the Schendel clinic and counting!!! Great job, everybody!!!

**Vaccination Event today at Schendel. **June 1 and June 2: Promotion and Graduation COVID-19 Testing for students and guests. For questions/inquiries, call our District Nurse, Patricia Marsh, at 209-656-2050, Extension 5187. It's time to get back to normalcy. Let's do our part to get us there! Together, we can do this!

We are now in the ORANGE TIER as a county! Currently we are at: **4.7 cases per 100,000 people **Infection rates at 2.3% Let's keep working to get back to normalcy! Congratulations, everybody!!!

Vaccine Education Session Today, Tuesday, the 25th, at Schendel Elementary, at 5:00 p.m. Join us!

Throughout the month of May we celebrate our wonderful employees: our teachers, classified employees, and administrators. We thank you for all you do for our children and for our community.

Free Vaccination Clinic for Delhi Residents and School Employees Covid-19 Vaccine Educational Session Information provided May 25th, 2021 5:00 pm at Schendel Elementary Cafeteria Free Vaccine Clinic May 27th, 2021 2:30 pm to 5:30 pm at Schendel Elementary Cafeteria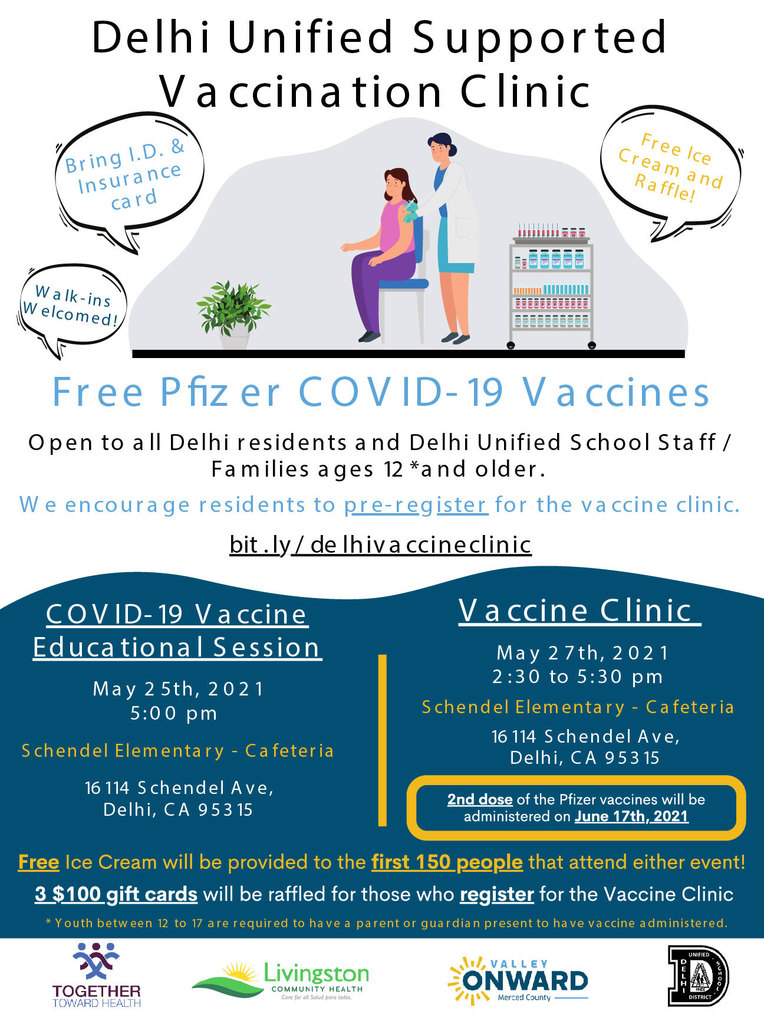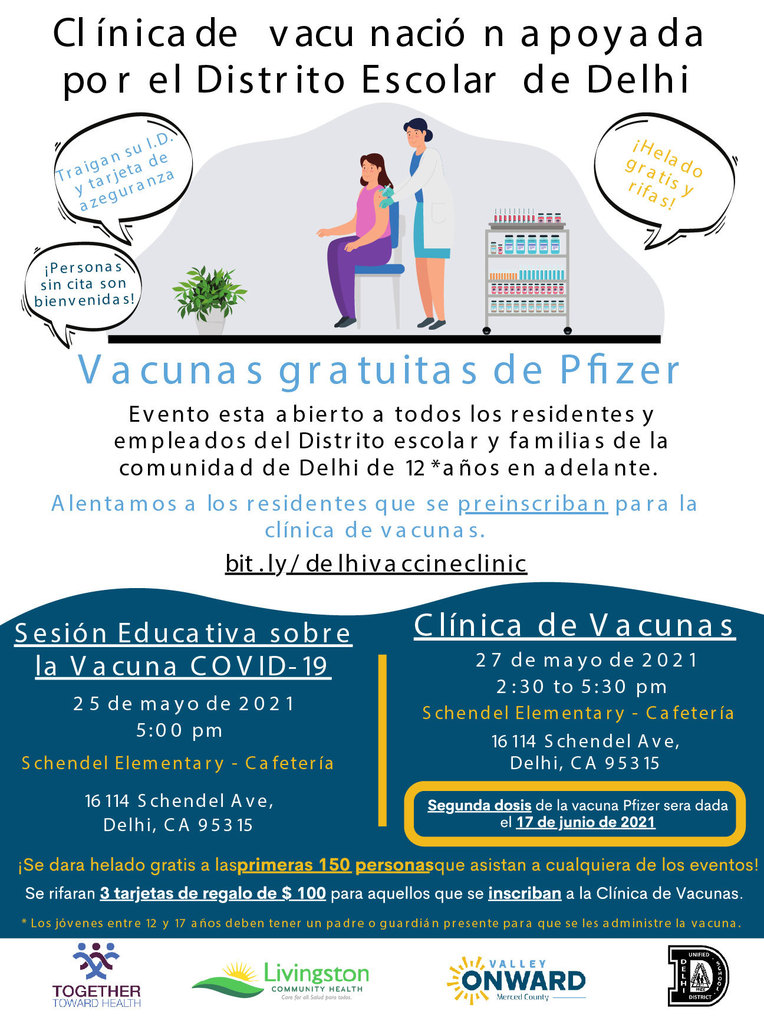 Let's keep doing our part to get back to a sense of normality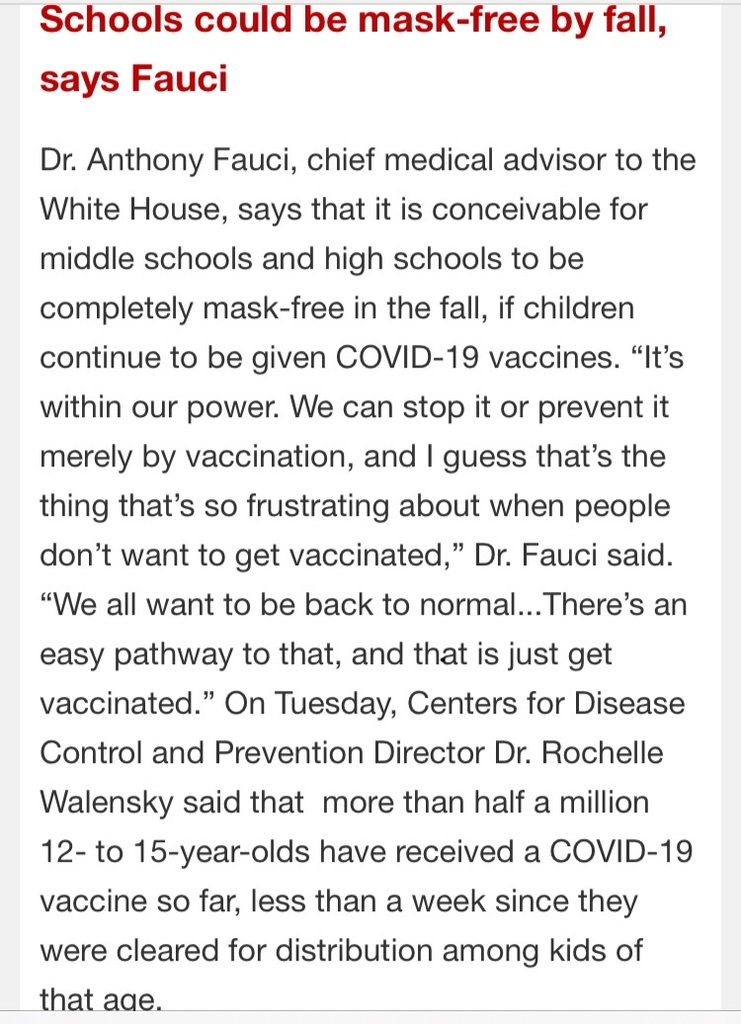 Did you know we are hosting a vaccination clinic at Schendel Elementary on Thursday, May 27th, beginning at 12:30 p.m.? It is for anyone 12 years and older, and it's free. Let's take advantage of this great opportunity. See you there!

Free Youth Warm Line Behavioral Health & Recovery Services If you need support, community resources, or just someone to talk to Resource for any youth seeking emotional support. Call (209) 381-6800 or toll free at (888) 334-0163

Did you know we are currently enrolling students for in-person summer school? If you have questions about summer school, please inquire at your local school. Summer school dates: June 14 - July 12 (No school July 5)

Did you know that DUSD just approved a new SOCIAL STUDIES program with textbooks, workbooks, and online resources? If you have any questions about thus new program, please inquire at your local school.

Thank you, Mrs. Greenwood and Mr. Dunnicliff.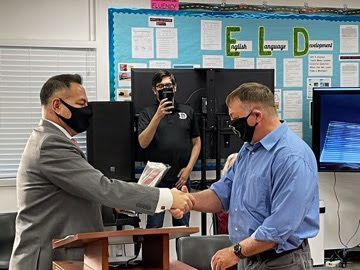 Dear DUSD Family, Vaccination Event Friday, April 16, 2021 10:00 a.m. to 5:00 p.m. Ed Park We are excited to be able to offer everyone in our District, including students 16 years and older, as well as community members, another opportunity to take the Pfizer-BioNTech COVID-19 vaccine. If you have not been vaccinated yet, please consider getting vaccinated now. This will protect you and those around you from COVID-19. To sign up, please go to
https://myturn.ca.gov/location-select?gclid=Cj0KCQjw38-DBhDpARIsADJ3kjmvB9-snRnx_Jx04Gfh2b8rkiMdJiIRR4yJ7Rzp0wGazTRVmmjd230aAk4yEALw_wcB
and you will find the Delhi event. Have a great day. Thank you. Attentively, Adolfo Melara Proud to Be the Superintendent of the Delhi Unified School District

FREE COVID-19 Testing: Saturday, April 10, 2021: 9:30 a.m. to 3:00 p.m. PRUEBAS contra COVID-19 GRATUITAS: sábado, 10 de abril, 2021: 9:30 a.m. a 3:00 p.m.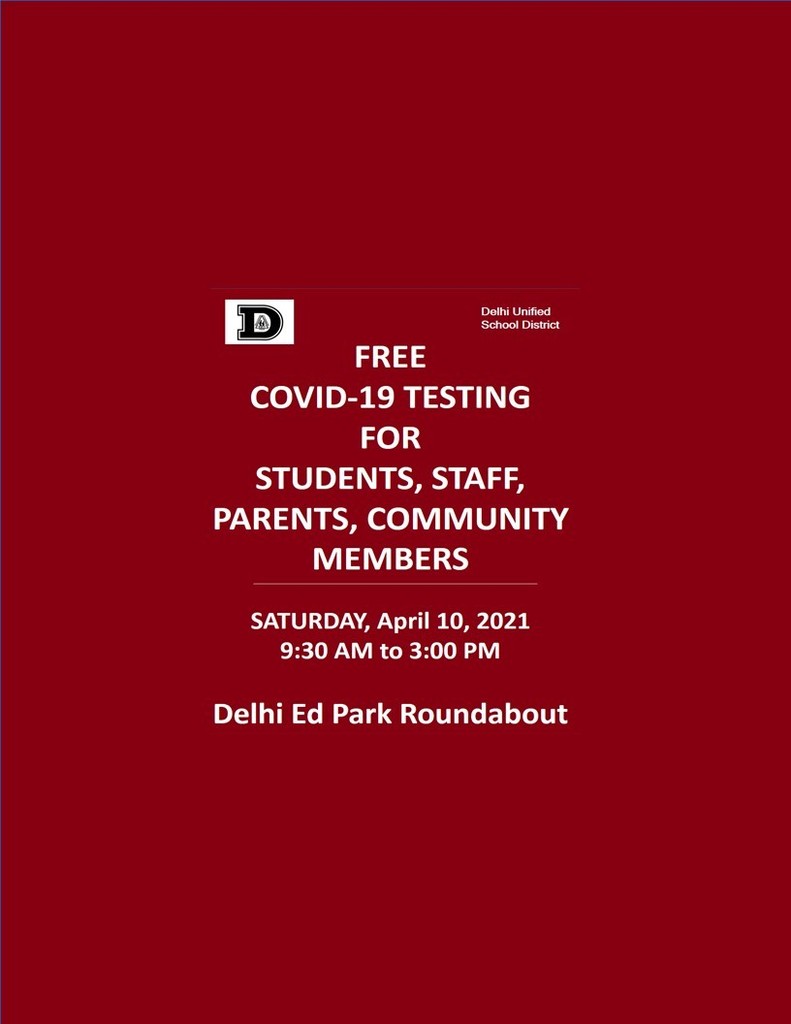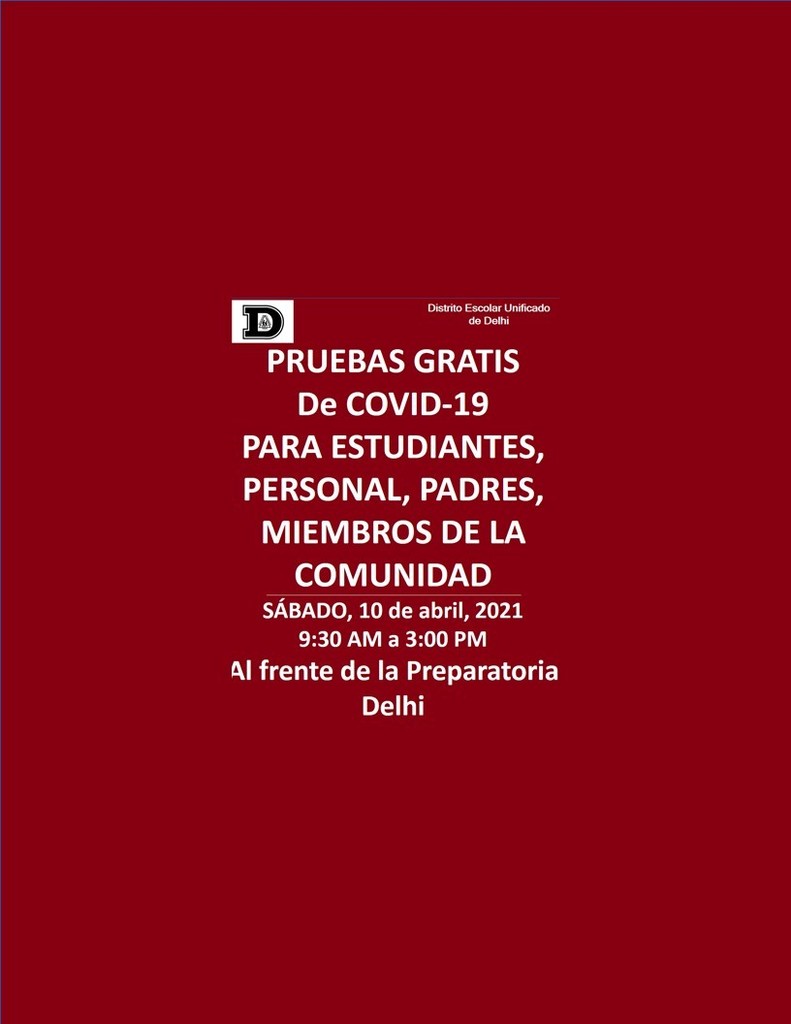 Prueba de saliva COVID-19 gratis el sábado 10 de abril, de 9:30 am a 3:00 pm, en el Ed Park. Free COVID-19 Saliva Test on Saturday, April 10th, from 9:30 am - 3:00 pm, at the Ed Park!

Dear DUSD Family, Delhi Unified School District wishes you all a safe and enjoyable Spring Break! To continue to keep our DUSD Family, Students, and our Delhi Community safe, DUSD invites you to get a free COVID-19 Saliva Test on Saturday, April 10th, from 9:30 am - 3:00 pm, at the Ed Park! Thank you, and have a safe Spring Break! Keep washing your hands, use your face covering, and social distance! Together we accomplish more and keep each other safe! Alberto Verduzco Director of Human Resources

We cordially invite you to our next Board Meeting: Tuesday, April 13, 2021 7:00 p.m. (virtual)

Dear DUSD Family, We are happy and proud to report that a COVID-19 vaccination clinic for educators is scheduled for Friday, March 12, 2021 from 10AM-6PM at the Delhi High School Gym. This local event will provide an opportunity for all school employees to be vaccinated. We are glad that the long wait for a vaccine here in Delhi is finally coming to an end. As of today, the need for vaccines dedicated to our employees is obvious. Here are our current employee vaccination levels: Total Number of Employees = 295 Employees Total Number of Unvaccinated Employees = 231 Employees Total Number of Vaccinated Employees = 64 Employees This upcoming vaccination clinic will help us tremendously in improving these vaccination levels. Clinic hours were planned to make it convenient for school employees. We appreciate the great work the Office of Emergency Services has done to bring this to Delhi. We would also like to thank the County of Merced, the Merced County Department of Public Health, and public officials for their support. To our Board of Education, thank you for your hard work and dedication to our children, staff, and community. This could not have happened without you. In the event that vaccines become available to eligible members in our community beyond school employees, we will let you know immediately. Currently in California, the following groups are eligible for vaccines: Individuals 65 and older Those at risk of exposure at work in the following sectors: Education and childcare Emergency services Food and agriculture

Dear DUSD Family, An additional COVID-19 vaccination clinic for educators is scheduled for Wednesday, March 10, 2021 from 10-6PM at the Merced County Fairgrounds. At this time, registration is only open to educators. There will be NO walk-ups available at this clinic and appointments must be made in advance by Monday, March 8, 2021 at 12PM. Please do not show up early for your appointment, as this creates long lines. Also, you will need to bring an ID and proof of employment, such as a pay stub, work badge or letter from your employer. In the event that vaccines become available to eligible members in our community beyond school employees, we will let you know immediately. Currently in California, the following groups are eligible for vaccines: • Individuals 65 and older • Those at risk of exposure at work in the following sectors: o Education and childcare o Emergency services o Food and agriculture